When I was a curate in Barnard Castle I lodged for a while with a saintly lady, Mrs 'Mac' Brown. She was a regular church goer and involved in many good works about the town. Each year she also organised the Christian Aid collection around Barnard Castle. Volunteers were designated streets to deliver giving envelopes to, and later to collect them. Mac allocated herself to the two streets with the poorest housing, streets where difficult council tenants were moved to. Each year she commented that some of the most generous donations came from the envelopes of those streets.
Jesus looked up and saw rich people putting their gifts into the treasury; he also saw a poor widow put in two small copper coins. He said, 'Truly I tell you, this poor widow has put in more than all of them; for all of them have contributed out of their abundance, but she out of her poverty has put in all she had to live on.' (Luke 21.1-4)
Perhaps you have noticed this too. Recently someone who at times struggles financially pressed into my hand a kind donation for our work to help the needy. I was moved, as I always am, by such an act of kindness.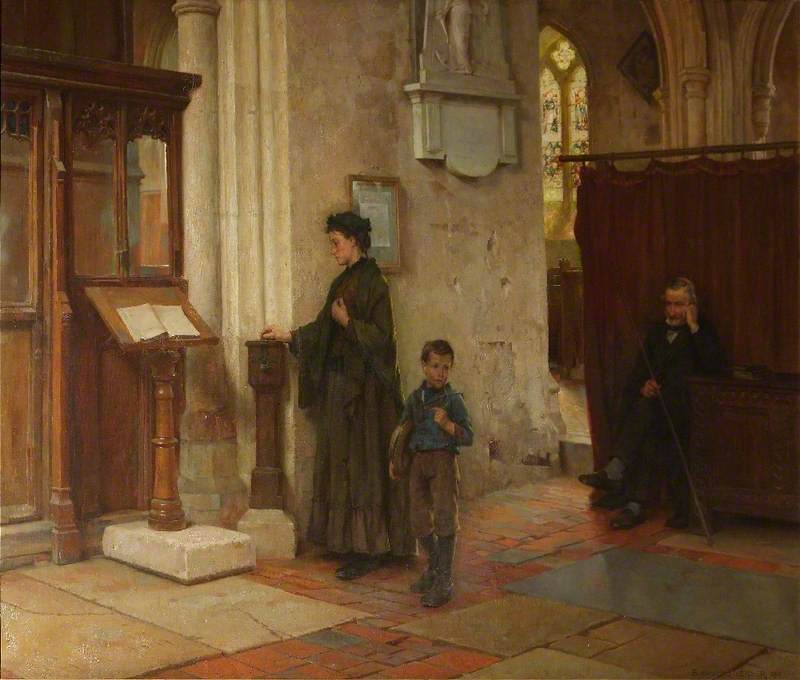 In this painting, The Widow's Mite, by William Teulon Blandfold Fletcher (1858 – 1936) we see a simple, poignant depiction of the gospel story translated by the artist to his times, 1890. Teulon Blanfold painted natural scenes which he saw around him. Here we see a widow, in dark clothes, placing money into a church poor box while her left hand goes to her heart – a sign of piety. A more wealthy man looks on thoughfully, and the widow's child, showing us a new generation, stands by his mother.
One commentator notes how well the floor is painted by the artist. The different tiles of different times reflect the generations past, present and to come, making up the church. The widow's act of the Gospel is shown again in the generation of the artist, and found again in our generation.
Fr Ian